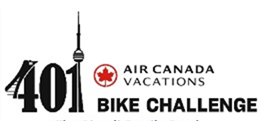 Hi Everyone,
By all accounts, the 2019 Edition of the 401 was one of its most successful. Of all the feedback we get every year following this memorable experience, this year's feedback was the best by far.
Whether it was first year riders, or 401 alumni, virtually everyone remarked on how emotionally charged 2019 was. We hear things like' " this was the best ride I have every participated in " or " I can't imagine a summer without the 401, this has become a part of my life "

Feedback like this warms our heart , because the 401 Committee works extremely hard to deliver the best, first-in-class experience we possibly can. Also, we deliver a high quality ride while ensuring that 100% of your donors' contributions go to the children.
It takes a dedicated committee to be sure, but it also takes dedicated riders for whom the cause holds special meaning. I don't believe I'm exaggerating when I say that 2019 represented the near perfect mix of riders, volunteers and organizers.
After 2018's lull, most will agree this year represented a significant comeback. We are extremely excited for 2020.
It is with this in mind that the 401 Committee is pleased to announce that next year, the AIR CANADA VACATIONS 401 BIKE CHALLENGE will be held on Wed Aug 19th - Fri Aug 21st, 2020
Please save the date and stay tuned for more news.
In the meantime, be safe out there; you are all part of the 401 Family !
Warm regards,
Gene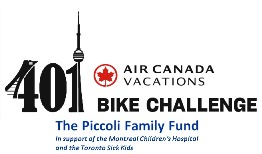 100% of the funds raised are donated to the Toronto Hospital for Sick Children (SickKids) and the Montreal Children's Hospital: No admin fees, no operating fees, all costs associated with putting on the event are funded by the riders and our corporate sponsors.
The cyclists, having fundraised for many months before the event, will make the inspired ride linking these two renowned pediatric institutions and make a difference in the lives of the children and families these iconic institutions serve. $15,000 of the total funds raised in 2019 (projected at $200,000) will go to the Canadian Cerebral Palsy Registry under the auspices of Dr. Michael Shevell, Head of the Department of Pediatrics at the Montreal Children's Hospital, with the rest of the funds being divided between the pediatric oncology departments at Toronto SickKids Hospital and Montreal Children's Hospital.